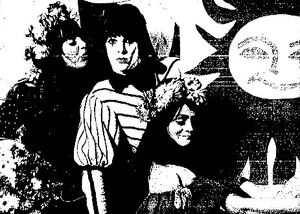 'Robert Shields' is an American actor who starred as the Mime in Fol-de-Rol.
Better known as half of the act Shields and Yarnell, Shields didn't speak for the first four years of his life and he spoke with a stutter until he was 17 years old, so the transition to professional pantomime seemed a logical choice. He first gained attention working as a street mime in San Francisco and soon he and his partner (and then-wife), Lorene Yarnell, transitioned to television, even headlining their own TV show in 1977. Perhaps Shields' biggest claim to fame is he was credited for creating the popular dance move "The Robot."
In recent years, Shields has bowed out of the public eye; he currently owns and operates Robert Shields Design, a jewelry design firm based in Arizona.
External links
Edit
Ad blocker interference detected!
Wikia is a free-to-use site that makes money from advertising. We have a modified experience for viewers using ad blockers

Wikia is not accessible if you've made further modifications. Remove the custom ad blocker rule(s) and the page will load as expected.