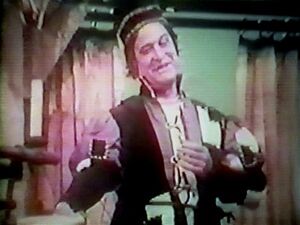 'Milt Kamen' (1921-1977) was an American actor and stand-up comedian who starred as The Town Crier in Fol-de-Rol. Kamen launched his television career in 1954 on Caesar's Hour, and he soon became a familiar face to the public, not only taking his stand-up routine on talk and variety shows, but also taking bit roles in a wide array of films and TV shows. Kamen is also credited for discovering an unknown named Woody Allen.
External links
Edit
Ad blocker interference detected!
Wikia is a free-to-use site that makes money from advertising. We have a modified experience for viewers using ad blockers

Wikia is not accessible if you've made further modifications. Remove the custom ad blocker rule(s) and the page will load as expected.