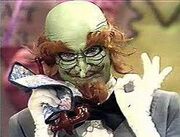 Hoo Doo is the evil magician in
Lidsville
. In the television show he is played by Charles Nelson Reilly. 
Hoo Doo is the extremely handsome, amazingly clever, all powerful magician in Lidsville.  Throughout the series, he tries to collect the rightfully due taxes, in the form of hat checks, from the citizens of Lidsville.  He also tries to protect himself from the plots of the young trouble maker, Mark.  (Edit provided by Horatio J. HooDoo.)
Biography
Edit
He was the original master of Weenie the Genie until Mark swiped the ring. Now Hoo Doo plots to get rid of Mark and get his genie back. His flunkies are Mr Big, Raunchy Rabbit, Jack Vampire, Egbert and Captain Hook Nose
Hoo Doo has a twin brother (In the episode Oh Brother) named Bruce who is a white sheep in the family.
He also has a mother Mommy HooDoo.
Ad blocker interference detected!
Wikia is a free-to-use site that makes money from advertising. We have a modified experience for viewers using ad blockers

Wikia is not accessible if you've made further modifications. Remove the custom ad blocker rule(s) and the page will load as expected.